As a child I had always loved looking at stained glass windows. When I met my partner, she had been attending a stained-glass course for a number of years and tells that the attraction to coloured glass started whilst playing marbles as a child. During her childhood she collected these as well as old glass bottles which she still has to this day. Whilst in her place of work she noticed people using the photocopier. They were copying stained glass patterns. Due to work commitments she had to wait several years to access the course. This was accredited and this is where her journey began. Jane was in the process of producing a piece of work for a competition. Whilst I sat and watched and asked lots of questions, I was shown how to cut some scrap glass. I was hooked. My first attempt was a heart for Jane who said I was a natural.
Months later I also enrolled on the course and here my journey for our business began.
The course that we studied incorporated lead work, mosaic and copper foil (Tiffany technique). Entering a mosaic competition run by Topps Tiles. I created my own vision of a waterfall, which won the regional and the national prizes. This is now hung in the national office of Topps Tiles in Leicestershire. Friends and family wanted to buy our pieces of work and we were encouraged to start attending local craft fairs. It has always been a dream, to run our passion for glass, as a business. Following a spell of ill health, the opportunity arose for me to run Forever Glass art as just that. Over the years our glass has gone with family and friends to Australia, France, Germany, Ireland, Spain, Switzerland and the USA, as well as up and down the UK.
As spiritual people all our work is created with much love and passion. Upon completion each piece is thoroughly inspected and does not leave the workshop until it meets our highest of standards.
Between us we have over 30 years' experience working with glass to produce beautiful items for our customers to appreciate and enjoy, some of which may be bespoke.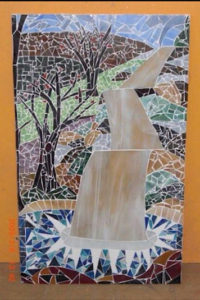 Here is the waterfall